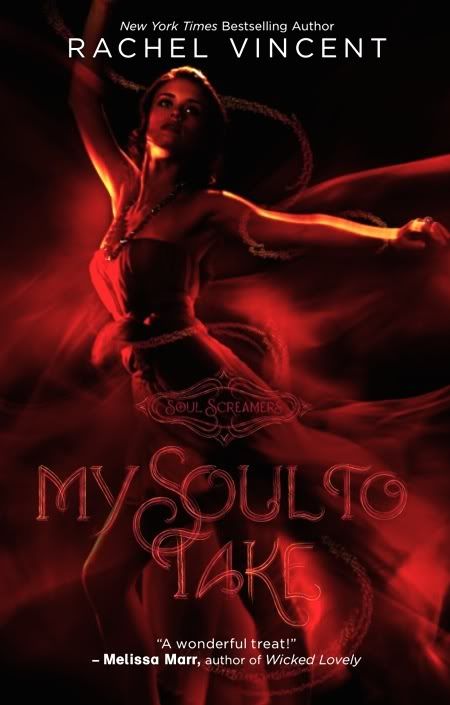 My Soul to Take
by Rachel Vincent
Series:
Soul Screamers, #1
Published:
August 1, 2009
Summary:
She doesn't see dead people. She senses when someone near her is about to die.
And when that happens, a force beyond her control compels her to scream bloody murder.
Literally.
Kaylee just wants to enjoy having caught the attention of the hottest guy in school. But a normal date is hard to come by when Nash seems to know more about her need to scream than she does. And when classmates start dropping dead for no apparent reason, only Kaylee knows who'll be next.
My thoughts:
Being a big fan of Vincent's adult series (albeit I'm only two books in) I was thrilled to find out she had a YA book series. However, I had a few reserves, considering one of my favorite aspects of her adult series is the heat between the main characters. But once I'd started
My Soul to Take
I realized Vincent has maintained the heat between her new characters in this series as well. Plus, I loved the concept: I mean, seriously teenage banshees! It's so original and I really love the mixture of paranormal/mythology/teen angst. I had a few complaints, but in the end, this was an interesting, well-executed start to the series.
Kaylee wasn't a great protagonist; in fact, she reminded me a lot of Faythe from Vincent's
Shifters
series. She was stubborn and strong-willed and a little bit too angst-y for me. She had all of Faythe's good qualities too: she's not afraid to stand up for herself or speak her mind, and she's a quick learner for sure. I liked seeing her struggle to come to terms with the fact that she wasn't human and that she could actually predict others deaths. She got on my nerves a little with her constant needling and whining about how unfair everything was, but in the end I liked Kaylee and will be looking forward to unravelling the rest of the secrets in her world alongside her.
Let's face it: the real reason I really liked
My Soul to Take
was Nash. He was sweet, understanding, and, well,
hot
. I loved the heat between him and Kaylee and how they weren't always getting along. Although their romance was a little easy, Kaylee has doubts and Nash isn't always the perfect gentleman, but I loved him and more importantly, I loved them together. The other secondary characters were interesting, if not totally fleshed out. The character I found most interesting was Kaylee's father, and I'm hoping to hear more about his background in the next installments in the series.
The story line was a bit predictable, but I still loved the concept. Despite the foreign subject Vincent still managed to make it believable and interesting without going into information-overload. The bits of pieces we got of information made the story intriguing and didn't deviate from what was actually happening. Vincent's writing is angst ridden and realistic without being overwhelmingly teen-like. It didn't take away from the action or the complicated plot. I'm definitely looking forward to reading the sequel and hope that it stands up to this great start.
Covering the Cover:
This cover is gorgeous, but I like the UK covers best honestly. It just fits the story better in my opinion.